Question: What famous Christmas Carol did John Menzies Macfarlane write?
Answer: John Menzies Macfarlane was born in October 11, 1833 in Stirling, Scotland, the son of John Macfarlane and Annabella Sinclair. In 1842, his mother was impressed with the message of the newly arrived missionaries from The Church of Jesus Christ of Latter-day Saints and was baptized. John was baptized in 1845. His father died in 1846 when John was about thirteen.
      Stirling Scotland

During the 1840s, several other members of the Macfarlane family joined the Church and attended the Glasgow conference. They were unable to immigrate, however, until the church established its Perpetual Emigration Fund to assist European converts to immigrate to Utah Territory. With that assistance, Annabella, with her children, began their journey in early 1852 to Utah. In Liverpool, they met Elder Isaac C. Haight and traveled under his direction in their voyage. Arriving in the United States, they steamed up the Mississippi River to St. Louis and then to Kansas City.
After disembarking in Kansas City, Annabella, age 40, and her children joined the Abraham O. Smoot Company which consisted of 250 individuals and 33 wagons. On the overland trail, there were at least ten deaths in the company from cholera, measles, or other causes. They arrived in the Great Salt Lake Valley in September 1852. They then moved north and settled in Bountiful.
In October 1853, the Macfarlanes moved to Cedar City, the headquarters of the Iron Mission where many Mormon converts from the British Isles had settled. Shortly before their move, his mother had become a plural wife of Isaac C. Haight. Soon after their arrival, Macfarlane began teaching school, which he continued for several years. Late in 1854, Macfarlane married Ann Chatterley (1837-1926), the daughter of Joseph Chatterley and Nancy Morton. In the coming years, they had ten children together, five of whom died as young children.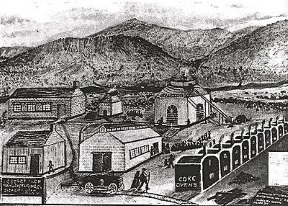 By settling in Cedar City, John Macfarlane was in an area dominated by the Deseret Iron Company, known more familiarly as the Ironworks. During this period in 1857, John Macfarlane's occasional role was as a teamster hauling lumber. When it became imperative to have a reservoir for clean water for the steam engine, Macfarlane was in the crew of more than 40 who built the reservoir. That was the extent of his involvement in the ironworks during that year.
In 1859, Macfarlane moved to the new settlement of Toquerville in Washington County where he became the postmaster. He also worked as surveyor, surveying towns, fields and canals. By 1862, Macfarlane was one of those who mediated a dispute over water rights between the settlers in St. George and Santa Clara. In 1866, Macfarlane became the superintendent of schools in Iron County. In October of the same year, he took a second wife, marrying Agnes Eliza Heyborn (1846-1932) in Salt Lake City, the daughter of John and Sarah Ann Heyborn. Over the years, they had nine children together.
In Mormon communities, choir director was an important assignment. When John Weston moved from Cedar City to Beaver in 1859 to build the choir there, Macfarlane was requested to return to Cedar City to head the community choir. Then in 1868, Mormon leader Erastus Snow requested that Macfarlane move to St. George to take over the choir. Macfarlane turned over the reins of the Cedar City choir to his brother-in-law, John Chatterley. In St. George, he assumed the leadership of the community choir and held the position for nearly 20 years. John was able to play on almost any musical instrument.
While Macfarlane worked variously as teacher, surveyor, postmaster, lawyer, and justice of the peace, what he was most renowned for in his community was his ability as a musician, chorister and song writer. His most famous composition, for which he wrote both the words and the music, was the Christmas Carol "Far, Far Away on Judea's Plains," composed in 1869. More than 140 years later, it remains a Yuletide favorite in the English-speaking world. He also wrote the music for the hymn "Dearest Children, God Is Near You,' lyrics written by his associate Charles L. Walker.
In addition, Macfarlane's St. George choir performed at important occasions and community ceremonies. In the 1870s, a spirit of cooperation among Catholics in the mining town of Silver Reef and Mormons in St. George led the Mormons to offer Father Lawrence Scanlan the use of the recently completed St. George Tabernacle to celebrate mass. MacFarlane's choir provided music for the mass.
In January 1879, Macfarlane took a third plural wife, marrying Elizabeth Jane Adams (1858-1948) in St. George, the daughter of Samuel Lorenzo Adams and Emma Jackson. They had seven children.
In 1888, Macfarlane helped in establishing the first academy for advanced schooling in Washington County. During the anti-polygamy raid of the late 1880s, Macfarlane fled to the Mormon colony in Mexico to escape the warrants of federal marshals. He returned to St. George where he died on June 2, 1892 at the age of 58, survived by his three wives and many children. He is buried in the St. George Cemetery.
Source: Book Review, "Yours Sincerely, John M. Macfarlane," Utah Historical Quarterly, 49/1 (Winter 1981), 100; Stories of Our Mormon Hymns by J. Spencer Cornwall, p. 40-41; FindAGrave.com