Almon Fullmer, Sr.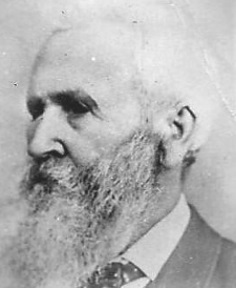 Question: What was the name of the military group at the Battle of Nauvoo in 1846 where Almon Linus Fullmer was second in command?
Answer: Almon Linus Fullmer was born September 7, 1816, in Huntingdon Mills, Luzerne, Pennsylvania. He was the son of Peter Fullmer and Susannah Zerfass. Peter Fullmer and his wife and several of their children with their families moved from Pennsylvania in 1835 to Ohio, just a short distance west of Kirtland, Ohio. At that time the headquarters of the Church was there. Peter and many of the family members joined the Church while living in Ohio.
Almon was Peter's third son and was only fourteen years old when his family moved to Ohio. When most to the family joined the LDS Church, he wasn't at all interested in it. But when his father sent him back to Pennsylvania to take care of some unfinished business, he began to think about it. He found that he was defending his family's reasons for becoming members of the Church of Jesus Christ of Latter-day Saints, and also the principles and its leaders. When he returned to Ohio he began investigating, studying, and discussing with members about the church. He became converted and joined.
      David Fullmer

Peter Fullmer and his wife lived in Ohio until the fall of 1839 when their oldest son, David, came to their home and helped them move to Nauvoo, Illinois where the Saints had just gathered from their Missouri persecutions. David and his family, with his sister Desdemona had experienced the troubles in Missouri and had moved to Nauvoo in the spring of 1839. Peter Fullmer purchased a rather large tract of land in Nauvoo. This area of Nauvoo was designated as the "Fullmer Tract.' Peter Fullmer and his three sons, David, John and Almon, apparently worked this farmland in Nauvoo. Fullmer Street in Nauvoo is named for Peter's son, David Fuller, who was a member of the High Council in Nauvoo at that time.
      Almon's Nauvoo Legion Sword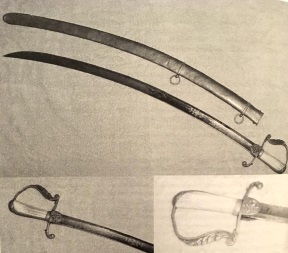 In 1843 Almon married Sarah Ann Follen in Nauvoo. He held many Church positions there and was a member to the 6th Quorum of Seventies. He was also a guard to Joseph Smith and became a major in the Nauvoo Legion. In the "Battle of Nauvoo' in 1846 about 1,000 mobsters tried to run the Mormons out of Nauvoo. The Mormons had only about 150 men under arms, which included the "Spartan Band.' Almon was second in command of the "Spartan Band' and when the first in command was killed in the battle, he took charge. The Nauvoo Legion held the mobsters off the first day, but they could see that it was a lost cause to continue because they were so outnumbered. A treaty was made between the two sides, allowing the Mormons to leave Nauvoo without further hostilities.
Almon recorded, "At the time the Prophet was in the Carthage Jail, I spent much time training his big black horse. I would gather all the news and at evening I would drive to Carthage and tell the news to the Prophet and try to cheer him up.'
Peter Fullmer and some of the family left Nauvoo in 1846 and stayed with their son, David, who became one of the Presiding Elders at Garden Grove, Iowa. In the fall of 1847 they moved on to Winter Quarters. Peter and his wife were 74 years of age when they crossed the plains in the Willard Richards Company leaving in July 1848 with their sons David and John and their families.
Almon moved to Winter Quarters in the spring of 1847, and in June 1848 he and his wife and son, Almon Linus Jr., traveled to Utah with the Brigham Young company, with Almon serving as a Captain of Ten. Along the way, Sarah gave birth to a little girl, Sarah Ann, near Fort Laramie, Wyoming. Twin girls had died while in Nauvoo, and this was to be the only daughter to reach maturity. They finally reached Salt Lake on October 5, 1848. Sarah and Almon had four sons after they arrived in Utah,
In Salt Lake, Almon became active in the affairs of the Church and the State of Deseret. He was set apart as a councilman in the 23rd Quorum and in 1849 was made deputy marshal for the State of Deseret. In 1850 he was appointed by Brigham Young to go with a group to Iron County in southern Utah and Las Vegas, to help colonize those areas as well as start iron and lead production. In Salt Lake City he had a home in the area of 4th South and 5th East, and was in the 9th Ward where his family resided in his absence.
In 1857 Almon married Rachel Neyman in a polygamy relationship. Rachel was born in Pittsburg, Pennsylvania May 27, 1832. Almon and Rachel were married by Brigham Young in the Endowment House on January 10, 1852. Rachel and Almon were divorced in 1857. Almon and his first wife had eight children (two died as children). Almon and Rachel had three boys.
When he returned to Utah, Almon was appointed second command of the State Militia under Colonel Harmon, and then became Colonel of the First Infantry Regiment. In this position he participated in most of the Indian hostilities in the state, and in one encounter was wounded in his leg. He was ordered to hold off the approach of Johnson's Army in Echo Canyon as the episode developed, but it never came to hostilities.
Almon was Colonel of the State Militia for years after this and resigned his commission to move to Cache Valley, where he bought a farm in 1870 near Providence. He died there on October 2, 1890 at the age of 74, and is buried in the Providence City Cemetery.
Source: FamlySearch.org, Life Story of Almon Linus Fullmer; FindAGrave.com